Consulting Tool Kit (CTK) is a complete set of SQL Server management tools written in Dexterity.  Running inside of Dynamics GP, CTK is easy to deploy without the special security that is sometimes needed to access the SQL Server.
Consulting Toolkit Includes:
SQL Tools

SQL Database Manager
SQL Query
SQL Trace

GP Tools

Finder
Resource Explorer
Stored Queries
View Wizard

SQL Tools
The three SQL Tools mimic the SQL Tools found in SQL Version 7: Enterprise Manager, Query Analyzer, and Profiler.  Our tools are completely written in dexterity and run inside the GP Client.  SQL Tools are an excellent way to provide powerful tools to power users, without providing access to the SQL Server.
SQL Tools are FREE. Just register and we will send you a link to download the software.
SQL Database Manager
Database Manager provides inquiry-only access to server, table, view, and stored procedure properties, and the ability to view data in SQL tables and views.
From Database Manager you can access:
Query
Query allows you to create and run ad-hoc T-SQL queries.
You can save and run stored SQL scripts, and export query results to Excel.
Trace
Trace allows you to track the communication between the Dynamics GP and the database. This tool is invaluable for troubleshooting, and identifying tables needed for reporting.
GPTools
GPTools are a collection of system utilities to assist you with report writing, trouble-shooting, creating Smart-List Builder favorites, and giving power users the ability to run ad-hoc SQL Queries in a controlled, secure manner.
Finder
Finder searches all tables in the Company Database for any user-entered value.  It locates the table, field, and dex_row_id of the record containing the search term.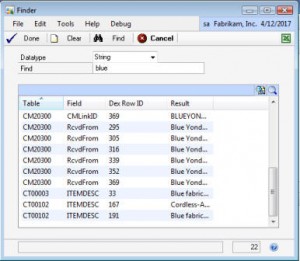 Resource Explorer
Resource Explorer searches the dexterity definitions of the tables, windows, and reports in Dynamics GP.  Quickly locate all tables containing a particular column name, find the product that contains a table using the SQL table name, or find windows that use a field.
Stored Queries
Stored Queries provide the ability to create and save tSql queries which can be securely assigned to, and executed by, an end user.
The Stored Query can required the user to enter parameters, and can be configured to automatically email you the results each time the query is executed.
Stored Queries can be imported and exported for easy transfer between clients.
View Wizard
View Wizard is utility for creating SQL Views of Dynamics GP tables that using "human readable" column names.  For example, instead of ITMTRKOP the column name would be ItemTrackingOption.  This is a great tool for building user-friendly tables for reporting, or for use in complex queries creating views for SmartList Builder.