MFG PowerPack is a suite of tools and enhancements for Dynamics GP Manufacturing.  It spans the Manufacturing, Service, Inventory, Purchasing, and Sales Modules, with the common denominator being a focus on providing tighter integration and additional functionality across the Dynamics GP core modules and Manufacturing.
MFG PowerPack is not just for manufacturing.  Many of the enhancements can be used in GP without the manufacturing module.  The list includes:
Capable To Promise
Commodity Surcharge
Item Class Serial Numbering
PO Revision Levels
Serial/Lot Auto-Generate
Serial Number Mass Entry
SmartParts
We add new features to MFG PowerPack on a regular basis, so check back often to see what is new, or sign-up for our Newsletter.
FEATURES
FEATURES
Batch Processing adds to GP Manufacturing the ability to create routings with batch processing sequences, where a fixed number of units can be processed through a machine in a given time period.  For example, a tile manufacturer with a kiln firing sequence where the kiln can hold up to 1000 tiles, which must be fired for 1 hour.  Or a bakery where an oven can hold twelve sheets with twelve cookies per sheet, and a bake time of 30-min.  The Batch Processing module recalculates the working routing based on the number of batches needed to processes the given Start Quantity on the MO.
BOM Archive creates a snapshot of the entire, exploded,  Bill of Materials structure (the top level of the BOM, and also the Bills of all subassemblies), and stores it as a series of named Archived BOMs.  The archival process can also capture a similar snapshot of all associated Routings (the parent routing, and all subassembly routings). This contrasts to the BOM Copy or BOM Revisioning in GP Manufacturing which capture only the top-level components, resulting in an inaccurate historical record because the exploded BOM still looks at the current MFG BOM for the subassemblies. The BOM Archive snapshot is a complete top-to-bottom record of a BOM at a specific time.
BOM Type Security : provides control over access to Bills of Material at the User ID – BOM Type level.  Restrict access to Engineering BOMs to engineering users, and Manufacturing BOMs to production users.  If a user attempts to access a restricted BOM in Bill of Materials Entry, they will be switched automatically into the Bill of Materials View window, where they can VIEW any BOM Type.  The control is also applied to the Manufacturing BOM Copy window, and our own BOM Archive window.
Capable To Promise Inquiry calculates the maximum quantity of an item that could be made immediately given available inventory, and ranks the component items based on inventory availability to give the user a quick overview of which components are build-limiting factors.  CTP can use the Manufacturing Bill of Materials, Inventory Assembly Bill of Materials, or Inventory Kit Components.
Commodity Surcharge : tracks the spot price of commodities, and adds surcharges during invoicing to cover the difference in the spot price between the date on which a price was quoted and the date of invoicing.
Create an unlimited number of Commodity records, and track the spot price of each commodity.  A predefined Threshold determines the price variance which triggers the module to add a surcharge, so that minor variations in price do not result in adding a surcharge for an insignificant dollar amount.
An Item in GP is assigned one or more commodity codes, and the amount of the commodity contained in the item.  A single item can contain an unlimited number of commodities, such as copper and gold in a wiring harness.
During transfer of a sales document to an invoice the Commodity Surcharge module examines each document for items containing commodities.  If the difference in spot price between the quote date and the invoice date for the commodities in the item result in a price difference which exceeds the predefined threshold, the Commodity Surcharge module will add a surcharge to the document.
Configuration Options – Required Included :prevents de-selecting configuration options in Sales Configurator that have been set as "Included" options.Normally Configurator will "include" items marked as Included in the default configured BOM, however the user can easily un-mark these items and remove them from the configuration.  By making these items "Required", they are both included in the Configuration and cannot be removed from the Configuration.
Configured BOM Auto-Naming automatically generates a BOM Name in Sales Configurator based on the SOP Number and SOP Line Number (such as STDORD2234-02, where 02 is the second line on the order).  This tool provides an automated naming convention for Configured BOMs that ties the BOM and the MO back to the sales line.
Item Class Serial Numbering :supports defining a single serial number mask which applies to all serial numbers generated for the items with an Item Class.  Each serial number generated will be unique for the entire class of items.  One item in the Item Class is selected as the Master Item.  Its Serial Number Mask is used as the Mask for all Serial Numbered Items in the Class.
Item Copy :provides quick setup of new inventory items by copying all of the setup from an existing item to a new item. Among the records copied by Item Copy are:
Item Maintenance (Item Vendors, Item Sites, Price List, etc)
Bill of Materials (Mfg BOM, Super BOM, etc)
Routings
Sales Configurator setup
Quality Assurance setup
Field Service Item Extension
Item Valuation Update sets the Valuation Method of service items so they can be used on the GP Bill of Materials.  Since service items do not normally have a valuation method, the BOM Entry window will not allow them to be used.
MO Document Types provides the ability to have unlimited Manufacturing Order document numbering sequences.
MO Document Types enables creating a Document Type (such as "PROTO" for prototype manufacturing orders) and a Document Number (such as "PROT0001").
MO Document Types makes it easy to group particular types of orders together.
The "Remember My Doc Type" feature enables default MO Numbering sequences per User.
Select MO Numbers from Manufacturing Order Entry, and MRP-Planned Orders.
MO Split splits a large Manufacturing Order into any number of smaller orders.
MO Split divides one large order into smaller orders that fit better with work center capacity.
The split MOs are still linked to the Sales Order.
A new SOP-MOP Inquiry window shows a complete Sales Transaction with all of its linked manufacturing orders.
Outsourced PO – Add To PO: rather than creating a separate PO for every outsourcing requirement, Add To PO will check if there is an open PO for the Outsourcing Vendor specified on the Outsourcing window and prompt the user to add the selected line to an existing PO.
Outsourced Purchase Order Enhancements modify the Outsourced Purchase Order so that the Description, Quantity Ordered and Cost provide more meaningful information to the Vendor, rather than reflecting "internal" information from the manufacturing routing.  See example here.
Attach a Vendor Description to a routing sequence and have that description appear on the PO
Changes the Quantity and Cost to be per-unit shipped to the Vendor, rather than reflecting the hours and labor cost of the routing sequence
Picking Bin Update enables quickly changing the Issue From and Issue To Bin for all items on a Picklist.
Power ATP adds numerous enhancements to the Dynamics GP Inventory Available to Promise window, such as:
Includes MRP Planned MOs and POs in the ATP calculation
Color codes the ATP calculation to make it easy to spot shortages
Allows changes to dates to see impact of rescheduling an MO or PO
Allows changes to quantities to see impact of bumping up or down an MO or PO
Can include multiple sites at one time in the ATP calculation
Can create MOs directly from the ATP window
Can include Lot Numbers by expiration date in the ATP calculation
Proposed Cost Update Sets the proposed material cost equal to the last purchase price for purchased items in a Standard Cost environment.  This utility automates an important first step in the Standard Cost Revaluation process, by automatically updating raw material costs.
PO Revision Levels tracks an Item Engineering Revision Level for each PO Line.  Maintains a change history of Item Engineering Rev Level changes, and a history of Rev Levels assigned to each PO Line.  Select a prior rev from Rev History when creating a PO.  Prints the current Rev Level for each item on the Purchase Order and Receiver.  The Rev Level maintained on the PO Line can be different than the current Rev Level from Item Engineering.
Reverse Issue Date Override changes the date on which inventory is re-added to the system when posting a Reverse Issue Transaction.  The normal behavior of GP is to put the inventory back on the Original Receipt Date, which can cause problems with inventory usage reports because it overstates the amount of inventory received on the Original Receipt Date, and overstates the amount of inventory consumed on the Issue Date.  To address this, Reverse Issue Date Override adds several other options for the "return to inventory date", such as Reverse Issue Transaction Date, Issue Transaction Date, User Date and System Date.
Quick Disassembly uses the GP Manufacturing Bill of Materials to disassemble inventory items into component parts. This tool creates a simple disassembly transaction based on an Inventory Adjustment, and is ideal for manufacturers needing a simple method to take apart an item and get the components back into inventory.
QuickWIP When using backflushing, QuickWIP provides a way to set Actual Start/Finish date/time on a routing sequence, or to simply mark the Done box.
Sales Forecasting Integration provides a two-way link between GP Manufacturing Sales Forecasting and Microsoft Excel.  With SFI all forecasting can be done outside of GP in Excel, in multiple spreadsheets with multiple users, and the complete forecast imported back into GP.  With SFI you can take advantage of "cloud" computing to make the forecast spreadsheet available to multiple users for simultaneous forecasting.  When the forecasting project is complete, pull down the final copy from the cloud and use SFI to import the forecast.
Scrap Reporting is a module for tracking, reporting, and costing scrap.  It integrates with GP Manufacturing Component Transactions to adjust the cost of scrap from Manufacturing WIP and into dedicate Scrap GL accounts.  Removing the cost of scrap from WIP can improve manufacturing variance reporting that might accurately reflect the per-piece variance if it is skewed by labor, machine and materials associated with scrap.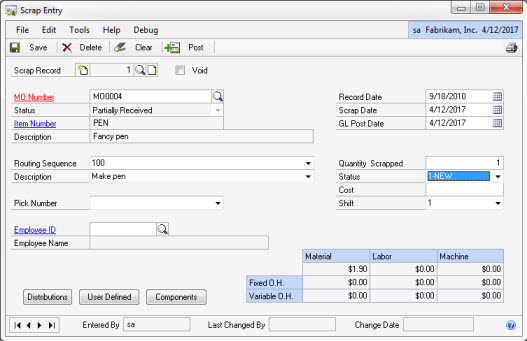 Serial/Lot Auto-Generate  enhances the lot AND serial numbering functionality in GP.  Use the Serial/Lot Mask to auto-generate serial numbers and lot numbers on any GP transaction.  Serial/Lot Mass Generate extends automated serial numbering AND lot numbering to the following transactions:
Inventory Transactions
Inventory Assembly Transactions
PO Receipts
Sales Transactions
MO Entry (for pre-entry of serial & lot numbers)
MO Receipts
Quick MOs
Serial/Lot Mass Generate also provides support for global serial/lot numbering.  Use a single Lot or Serial Mask to generate the serial or lot numbers for all serial or lot controlled inventory.
Serial Number Pre-Assign automatically pre-assigns serial numbers when a manufacturing order is created.
Especially useful when Sales Configurator is being used to create manufacturing orders, since the sales user normally does not have access to MO Entry.
When creating manufacturing orders, this utility eliminates the manual step of pre-assigning serial numbers.
Serial Number Mass Entry copies a list of serial numbers from an external source (Excel, text file, email), and pastes into any Serial Number entry window in Dynamics GP.  Save time and reduce errors over manual entry.  Serial Number Mass Entry works with SOP, POP, Inventory, Manufacturing and Service.
Service Equipment Suite The Service Equipment Suite consists of:
Automated Configuration Builder – when an Equipment Record is created from Sales Transaction Entry, the Configuration Builder will automatically create a Configuration record using the SOP Number, add the Equipment Record to the Configuration, then search for all linked serial numbers in the MOP Serial-Lot linking and create Equipment Records for those linked serials.  These new Equipment Records are also added to the Service Configuration.
Customer Class Extensions – provides the ability to specify warranty codes at the Customer Class level which override the default warranty codes specified in Service Setup.
Equipment Customer Changer – swap the Customer assigned to an Equipment Record, and automatically roll that change through all levels in the Configuration.
SmartParts is a "logical" ID Number generating tool to assist users in creating ID Numbers where each segment of the ID Number has coded meaning.  For example, an Item Number might consist of several segments with each segment representing different attributes of the item.  CU-RD-12 could be Copper, Round, 12″ pipe.
SmartParts allows creating an unlimited number of Masks, each having up to 30-segments, with a list of defined codes for each Segment.  A Mask is the set of Segments and Codes used to create a particular type of ID Number (such as Metal Pipe).  The user creates a new ID Number by selecting from the list of Codes for each Segment within the type of ID Mask they are using.
SmartParts creates ID Numbers for Item Numbers, Customer Numbers, Vendor Numbers, and WennSoft Job IDs.  The SmartParts Lookup available in Sales and Purchase enables retrieval of complex part numbers by selecting coded segments from drop-down lists.
Where Used Inquirydisplays the position of any component in a graphical, multi-level, indented bill of materials.
All parent items that contain the component are displayed
The bills are exploded to the level containing the component, which is clearly marked with a red dot to facilitate quick identification.