BOMImport for Dynamics GP Manufacturing is a Bill of Materials integration utility designed to make it easy to perform regular imports and updates to Bills of Material from an external file (Excel).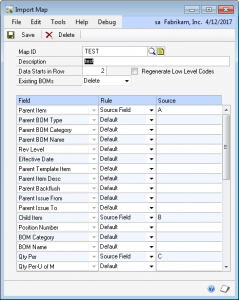 The Import Mapping utility allows mapping all of the Bill of Materials fields to fields in a source file, or predefined Constants, or system provided Defaults.  During the import existing BOMs can either be revisioned (which makes a copy of the existing BOM and moves it into BOM History tables), or replaced by the imported BOM.
BOMImport can also create new Item Numbers on-the-fly through the use of Template Items and an integration to WilloWare's Item Copy in MFG PowerPack (Item Copy must be licensed separately).  As new items are imported, all of the setup needed to create the new item is copied from the Template Item.
Multiple levels of a BOM can be imported at the same time, as well as multiple BOMs for different items.

All imported data is validated.  Any errors are reported in an Error Log which references the line in the Excel spreadsheet which contains the error.