MO Generator provides integration utilities for building systems which connect Dynamics GP Manufacturing to external applications.
The Suite of utilities contains:
MO Generator Core: provides a set of utilities for creating MOs, creating sub-assembly MOs, and rescheduling MOs.
MO Receipt Integration: provides auto-posting of MO Receipts.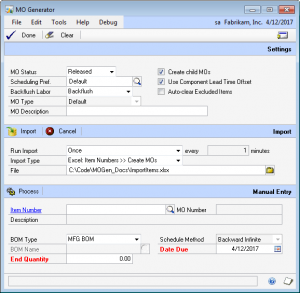 MO Generator Core Utilities
Performs several different imports, in either a manual mode or an unattended, scheduled mode.  The imports can be performed from either an Excel spreadsheet, or through an integration Staging Table provided by MO Generator Core Utilities.  Regardless of the source, the following imports are available:
Import Items: have an external system populate a spreadsheet with the Item Number and Quantity to build, and MO Generator Core Utilities will automatically create MOs for the top-level items, and optionally create child-MOs for all of the subassemblies.  If child-MOs are created, MO Generator Core Utilities calculates the Start Dates so the MOs are complete before the upper-level MO is scheduled to begin.
Import MOs: use MO Generator Core Utilities to create subassembly MOs for existing top-level parent MOs.  Use this import to create subassembly MOs linked to the parent MO when releasing MOs from Master Production Schedule or MRP.
MO Scheduler: There are several 3rd Party Products for Microsoft Dynamics GP which integrate into Manufacturing by creating an MO Header record, but which then require manual action by a user to select the MO in Manufacturing Order Entry and click the Schedule button.  Additionally, the user may have to Release the MO, which depending on Manufacturing Setup, may create a Manufacturing Allocation transaction.  MO Scheduler eliminates the manual handling of these MOs by automatically completing the tasks above.  It  runs by itself, picks-up the new MO Headers, and automatically builds the picklist, creates a working routing, schedules the MO, releases it, and allocates inventory (if specified in setup).
MO Generator Core Utilities also has an optional integration to Manufacturing's SOP-to-MOP  functionality (the Manufacturing Series Sales Item Detail window), which initiates MO Generator Core Utilities automatically, when a new MO is created from Sales Order Processing, to create sub-assembly MOs.
When MO Generator creates a set of MOs for the top-level parent item, and its subassemblies, it can automatically reschedule all of the children when the top-level MO is rescheduled.
MO Receipt Integration 
Automatically creates MOs and posts MO Receipts based on data fed into a Staging Table, and can run in either a manual mode, or a an unattended, scheduled mode.  Additional features include:
Post one or more partial receipts against an existing MO
Automatically update linked Sales Transactions and allocate inventory
Create finished good inventory that is serial or lot-tracked
Import and record actual material consumption
Create component transactions using serial or lot-tracked raw materials
Import and record actual labor
WithoutWire created a demo of their WithoutWire WMS for Dynamics GP integrating with Manufacturing through our MO Receipt Integration utility.